Plenary speaker:
Dr. Amanda Roe
Research Scientist Insect Production and Quarantine
Natural Resources Canada - Canadian Forest Service

Plenary title:
Tracking the invasion of the Asian Longhorned beetle (Cerambycidae: Anoplphora glabripennsis Motschulsky): surprising population structure, invasion history, and signatures of functional adaptation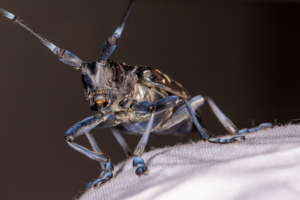 (Photo courtesy of Brent Sinclair)
Summary:
Asian longhorned beetle (Anoplophora glabripennis – ALB), is a native forest pest in China and the Korean peninsula. This species has successfully invaded and spread to hardwood forests in North America and Europe. ALB mines the heartwood of a range of tree species and poses a significant threat to invaded forest ecosystems. Tracking and responding to the ALB invasion requires knowledge of its native population structure and the ability to mount a rapid response to new infestations. We used genomic approaches to characterize the native population structure and trace the North American invasion of ALB. Our results showed clear differences between ALB populations in China and South Korea, as well as pronounced population structure within China. Signatures of selection were detected in a number of SNPs, including a missense variant in glycerol kinase (GLK3), a critical enzyme in the production of the glycerol, which is used as a cryoprotectant to survive low winter temperatures. A latitudinal cline in allele frequencies within GLK3 hint at regional adaptations to different winter conditions. The results provide a foundation for mapping the global invasive history of ALB. 
IBC2022 will be held in-person June 1-3, 2022
Conference costs:
Principal Investigators / Retirees - $350
Post-Doctoral Fellows, Graduate Students, and Technicians - $250
R
egistration:
Registration link will be available in early March. Registration fees offset IBC administrative and annual meeting costs, support trainee awards and cover accounting fees. IBC is a registered not-for-profit organization so any surplus in registration fees is distributed in the form of awards for best presentations by trainees.
IBC2022 registration and payment can be made online by credit/debit card (links below):
**NEW**


REGISTER ONLINE FOR IBC2022
Principal Investigators / Retirees - $350 IBC2022 REGULAR registration link
Trainee registration link (includes Post-Doctoral Fellows, Graduate Students and Technicians) - $250 IBC2022 TRAINEE registration link
Abstracts:
Once you have paid your registration fee, if you are interested in giving an oral presentation, please submit your abstract using the following link for the oral presentations by April 14th, 2022 final extended deadline of April 28th, 2022.
Please follow the specified formatting guidelines when submitting your abstract.  A sample abstract submission can be found here.
Accommodations:
We have negotiated special rates for IBC2022 attendees at the Hilton Garden Inn (Niagara on the Lake, ON). The group booking code is: IBB22
Reservations can be made by calling the guest service agents at 905-984-4200. Please note that the cutoff date for this special rate is May 2, 2022 at 12am; after this date any room bookings will be based on regular public rates.
Important Dates to Remember:
Registration (and payment) deadline:  April 7th, 2022 final extended deadline of April 21st, 2022
Abstract submission deadline:  April 14th, 2022 final extended deadline of April 28th, 2022
Accommodation special rate cutoff date:  May 2nd, 2022

Tentative Meeting Schedule:

Wednesday June 1st, 2022:        TBA
Thursday June 2nd, 2022:        TBA
Friday June 3rd, 2022:        TBA
Sessions:
Following past practices, there will be two types of presentations.  Standard seminar type (long talks) and short talk opportunities for those who wish to highlight their research for exposure but not for detailed explanation (ideal for graduate students early in their research career and for those more experienced who want to highlight a new or early area of discovery). These short talks replace the poster sessions.
Long talks: 15 minute talks, ~5 minute questions (20 min total)
Short talks: 5 minute talks, maximum 5 slides, ~5 min question period (10 min total)
For more information contact us by email: Andrew Donini and Jean-Paul Paluzzi
Archive of Insect Biotech Conference Programs:
2021  2020  2019   2018   2017   2016  2015  2014